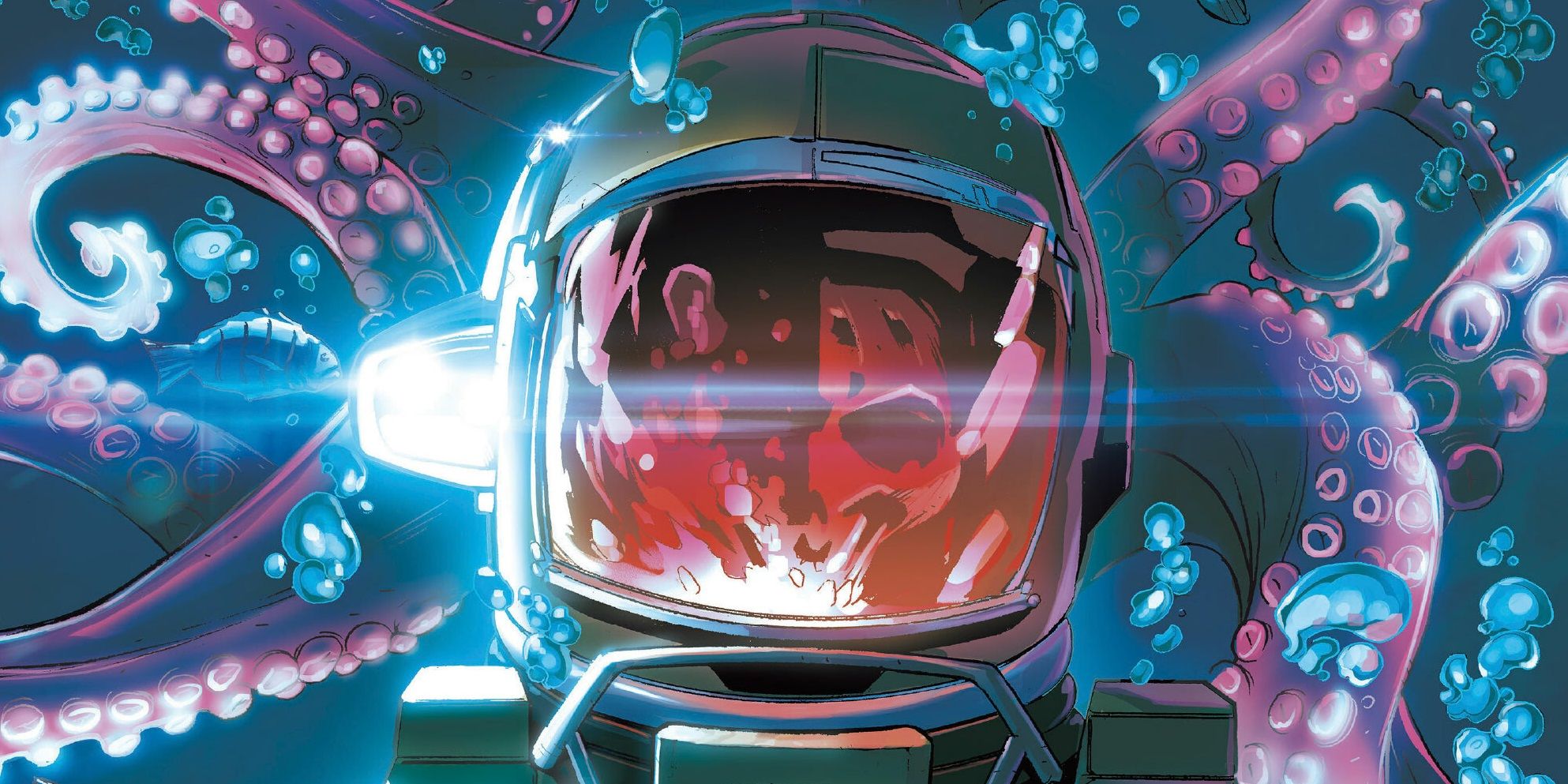 Image Comics' Deep Beyond Comic Review
Image Comics' Deep Beyond explores the depths of family relationships through an underwater landscape filled with danger and sci-fi intrigue.
Space may be the final frontier, but the secrets of the ocean may be the key to humanity's survival in Deep Beyond, a new sci-fi series by Mirka Andolfo, David Goy, and Andrea Broccardo. Published by Image Comics, Deep Beyond is filled with danger and existential dread. It showcases the potential horrors that lie deep within the planet while reflecting on the role that society plays in destroying the Earth. By capitalizing on the ties that bind people together and the lengths that they'll go to in order to protect their family, Deep Beyond Vol. 1 shows the defiant strength of the human spirit in the face of adversity.
Deep Beyond Vol. 1 collects the first six issues of the series and opens with Pam, a scientist in the year 2085, who embarks on a mysterious oceanic expedition that goes horribly wrong. Elsewhere, Pam's wife, Eve, meets with another scientist named Paul Bailey to discuss Pam's disappearance. Eve is a political leader and is sworn to protect colony B-34 from all threats — including political revolutionaries that are determined to kill humanity by exposing them to the toxic atmospheric gases developed in the wake of "Recollection Day." Soon, Paul is confronted by two revolutionaries who plan on escaping the colony and tracking down Pam's lost ship. But when one of the revolutionaries reveals her surprising identity, Paul is forced to explore the depths of the ocean in a quest to save Pam and the planet itself.
RELATED: What's the Furthest Place From Here: Matthew Rosenberg & Tyler Boss Hit Play on Image Comics' Punk Rock Series
Writers Mirka Andolfo and David Goy co-pilot Deep Beyond Vol. 1, having previously worked together on Un/Sacred. Together, the pair pack a lot of world-building into Deep Beyond. The story moves quickly and readers are expected to keep up with the wily concepts being thrown around regularly. In the first issue alone, there are underwater monsters, terrorist attacks, poisonous gases, and artificial societies. From there, the scale of Deep Beyond increases exponentially. Luckily, the core cast is streamlined to focus on Paul, Eve, and Pam's sister, Jolene. While other faces pop up, the emotional journeys of these characters prove to be what binds the story. Much in the same way Interstellar centered around Matthew McConaughey and his children, Deep Beyond is anchored by Jolene's love for her sister, which helps ground the story.
Fresh off of Curse of the Man-Thing, artist Andrea Broccardo translates the horrifying world of Deep Beyond Vol. 1 into beautiful visuals. There are a lot of gruesome sights in this book — from the disgusting boils that grow on people's skin to the underseas monsters that rip bodies to shreds. In each instance, Broccardo carefully depicts the scenes so they stay intense without giving everybody nightmares. Broccardo creates unique designs for all of the book's machinery as well, using retro-tech aesthetics on aquatic engineering.
RELATED: Image Comics' Radiant Black Revitalizes Superheroes in Dynamic Fashion
Colorist Barbara Nosenzo is also key to nailing the series' look, using a muted palette to represent the characters and the human elements, while exploring more vibrant colors for the threats that pop up. In particular, Nosenzo applies a grainy texture to a lot of the tech, making it feel old and weathered in juxtaposition with the fresh, clean monsters. It is very effective.
Overall, Deep Beyond Vol. 1 is an intriguing read that explores the depths of humanity's will to survive while descending deep into the Earth's core. A unique premise and engaging cast of characters create a fertile environment for an engaging story that will leave fans yearning for me. As Mirka Andolfo's star continues to rise, readers would be wise to dive into Deep Beyond.
KEEP READING: Jeff Lemire's Primordial #1 Depicts a Thrilling, Alternate History of the Space Race
X-Men: Marvel Brings Another Omega-Level Mutant Into a Key Trial of Magneto Role
About The Author
Denial of responsibility!
TheNewsMotion is an automatic aggregator of the all world's media. In each content, the hyperlink to the primary source is specified. All trademarks belong to their rightful owners, all materials to their authors. If you are the owner of the content and do not want us to publish your materials, please contact us by email –
[email protected]
. The content will be deleted within 24 hours.