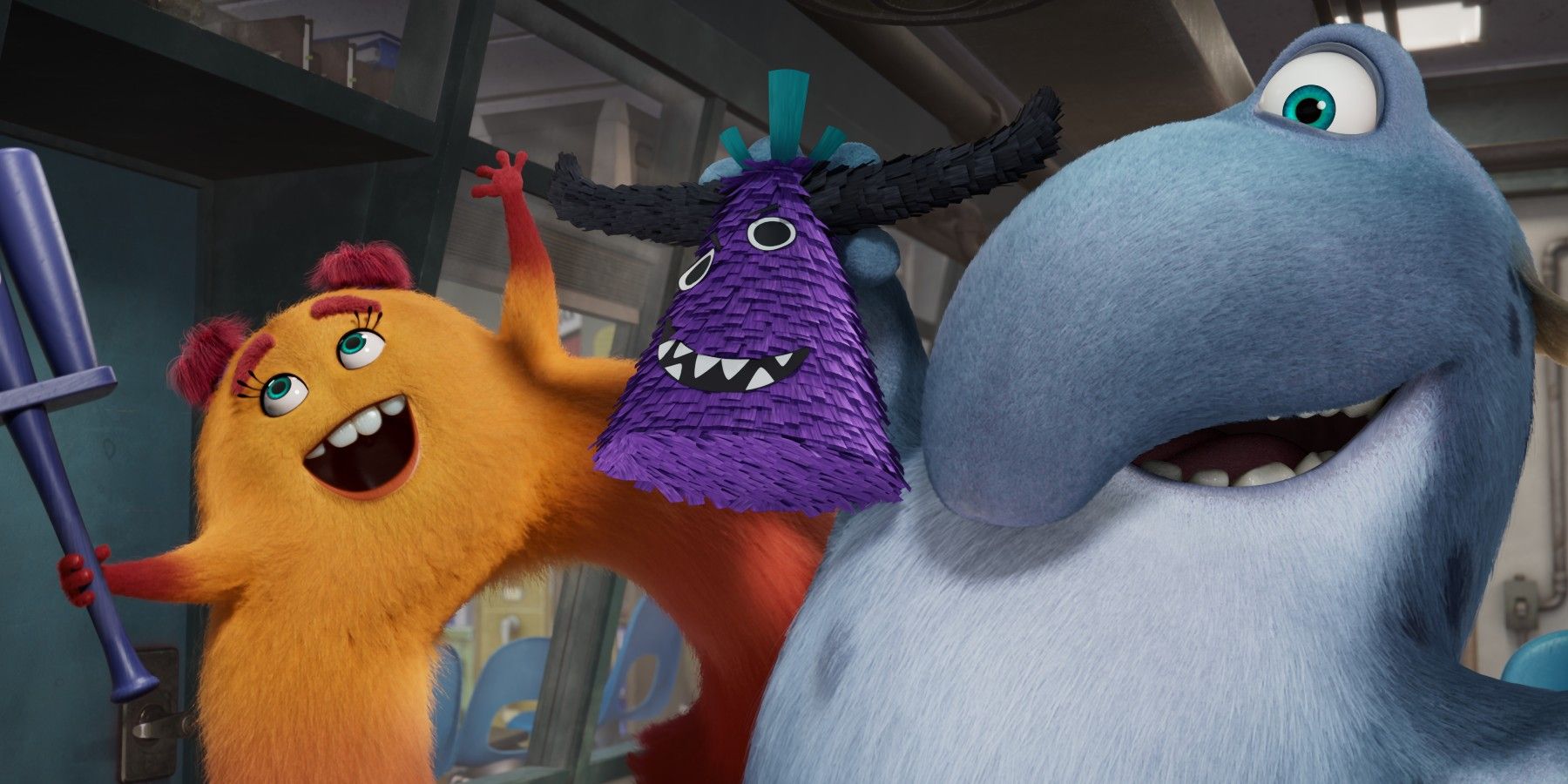 Monsters at Work Boss Brings Changes to Monsters, Inc.
Back in 2001, Monsters, Inc. hit theaters and became a major success for Pixar, being one of its first films to earn a nomination for Best Animated Feature at the Oscars. Monsters, Inc. also dominated at the global box office, bringing in $528 million on a production budget of $115 million. Following top Scarer Sulley and his Scare Assistant, Mike, after a child, Boo, enters Monstropolis, Monsters, Inc. sees the two monsters do what they can to reunite Boo with her family while inadvertently changing the scare game for good at Monsters, Inc.
20 years later, Sulley and Mike are back in a new Disney+ series, Monsters at Work. The upcoming series focuses on a new group of monsters the day after Monsters, Inc. transitions from laugh power to scare power. This hits Monsters at Work's protagonist, Tylor, particularly hard, as he's aspired to be a Scarer his whole life. Now, Tylor needs to re-approach everything about his work if he intends on making it big at Monsters, Inc. In anticipation of the upcoming Disney+ series — set to drop its first two episodes July 7 — executive producer Bobs Gannaway sat with CBR for an exclusive interview about the challenges and joys that came with expanding the world of Monstropolis and his favorite monsters in the animated series.
RELATED: 8 New Animated TV Shows and Movies to Watch in July 2021
CBR: What made you want to bring back the world of Monsters, Inc. and have this property be the one to kick off Pixar's original series for Disney+?
Bobs Gannaway: I was actually asked to come in and work on the series at the very beginning. I've had a lot of experience at Disney TV animation, where I've made… I've lost count of how many shows… I think maybe five or six. But I've also had experience working in theatrical with Planes: Fire & Rescue and working in the sort of Pixar model of storytelling, which is about iterative and emotion and tethering things to truth, so I was actually brought in because the show is produced by Walt Disney Television Animation, figuring like I kind of had worked both in the feature world and the television world.
So my goal from the beginning was to create a series that actually takes you back to Monsters, Inc., that looks and feels like the place you love. The characters look and sound like your friends, to the point where you know, it has to be Billy Crystal, has to be John Goodman, and use everything I learned from working in features and applying those best practices to television, which has its own set of challenges and hopefully create a show that, again, the audience feels like they're going back to a place they love.
RELATED: Disney+'s Monsters Inc. Series Unveils Its Creepy Cast
Speaking of those challenges, the show's shifting from scaring to laughter, and plus it's been I believe two decades since the first movie came out. What were some of those challenges that presented themself when developing this?
There are challenges from a storytelling standpoint, and there are challenges from a technical standpoint. When they made Monsters, Inc., I mean, the challenges were quite evident — the sim of cloth and Sulley's hair — and we had a similar… I mean, there's obviously a lot of technology now 20 years later that we can do, but there are still similar challenges, making sure, you know, groom on characters and things like that. I think is super-specific. But yeah, the challenge was really making sure we recreate those environments. You know, people think, "oh, you just got the assets from Pixar." And it's like, no. Those I think are on floppy disks, you know. But Pixar did share a lot of their development art with us, and we were able to sort of rebuild the world.
That said, from a storytelling standpoint, the idea of having the show take place the day Monsters, Inc. switches to laugh power, that took a long time. It seems like an obvious thing, but it took us I'd say almost a year to figure out just that really simple idea of a character graduates from the School of Scaring, has dreamed of being a Scarer, idolized Sulley — that's why he went to MU, then the universe throws him a curveball, and his whole life plan gets turned upside down. How's he going to deal with that?
Then interestingly, we have this COVID situation, which is all about the world's universe throwing us a curveball, and how are you going to deal with it? And that made for an interesting character, because now the character, our main character, can be flawed in the sense that the thing I wanted gets taken away from me, and that's not fair. And the audience, therefore, hopefully, connects with that. So once you've connected with that character, we can go into the world and tell the story… I'm getting off the question a little bit, but just capturing the look of the world and then capturing the sort of feel of a Pixar story, where there's a character I care about, and I want to go on the journey with him.
RELATED: Monsters, Inc. Nearly Made Sulley a Scare Assistant 
Speaking of the characters, we have a whole bunch of new ones, including Tylor. Which one was your favorite one to see in the final product, and why?
Of the MIFT team?
Of the MIFT team. 
Oh, you know, it's hard to choose a favorite because, I know that sounds rehearsed, but it's true. We started with, you know obviously, we had Ben Feldman as Tylor, and I wanted to create… He was actually… We talked about that in the session where he was a scary monster, but it needed to have like an everyday voice, a voice that was appealing, that had some vulnerability to it. So that's a big monster, but he's a little, you know, he's got some vulnerabilities, so that was important.
I love Fritz. When we cast Henry Winkler, it was an instant casting. It's like what a warm and loving voice coming out of this hub of the MIFT team. And we wanted to make sure like, Fritz was this character who's happy in his place. He drives his car to work and goes to work, and we just wanted to have this happy, warm hub to the group. So I think I hate to pick a favorite. Fitz is great. Cutter is great. Duncan's great. I'm really happy with all of the new characters, and you never know till you meet them, right? You can make it up all you want, but they don't feel real until they start to talk and do stuff.
RELATED: Monsters Inc.: What Is Boo's Real Name?
Shifting from the new characters to some of the recurring, older characters, we have Mike, Sulley, so many returning faces. What new challenges and what did you want to explore with these old faces that audiences who've been around for decades now know so well.
The focus of the show, we knew from the beginning, was going to be this new crew, and we knew that Mike and Sulley were going to be sort of the support of the world. That said, we're spending a lot of time with them. Graduating Celia May to a floor supervisor versus the receptionist was almost an instantaneous thing because we wanted to move a female character up into a leadership role. There's a new receptionist named Otis who's voiced by me, so I'm the new Monsters, Inc. receptionist. But yeah, so graduating Celia May and sort of having that relationship.
We spend a little bit more time with Ms. Flint, because now she's in this position of having to try to find funny monsters, not scary monsters, so she's very frustrated. She's like the laugh-ologist. She's very, like, what are the algorithms that make humor, so she's now attacking it. She's taking it that way. Roz is a good one. I'll hit two other ones. Roz, we know is the CDA, so she wouldn't be back outside the laugh floor. So we brought in Roze. It's up to you to decide if it's Roz or not. Even we don't know.
And, you know, and then one character I would like to say, Smitty Needleman, initially, I was not going to bring back because Dan Gerson, who did the voice of them passed away, and I felt like I respected Dan. I'm not gonna bring those characters back. And then I realized, no, that's actually the opposite of what I should do. Dan would want those characters to live on. So we have Smitty Needleman in the show, voiced by Steven Stanton, who does a great job, but if you look very closely, here's the secret, on the trash cans, Smitty Needleman have pushed around, it's manufactured by Gerson industries, which is a little tribute to Dan Gerson. You have to look close.
RELATED: Disney's Live-Action Snow White Taps Shazam 2's Rachel Zegler as the Princess
Well, I know we're wrapping up right now. So I want to thank you so much for sharing all your answers with me, and I look forward to the rest of the series. Personally, I love Celia, so I'm glad to see she got that promotion.
Yes, yes. She's in charge now.
Finally.
Jennifer Tilly loved it. She ran with that.
Monsters at Work stars Ben Feldman, Mindy Kaling, Henry Winkler, Billy Crystal, John Goodman, Jennifer Tilly, Bob Peterson and John Ratzenberger. The series will be available to stream on Disney+ starting on July 7.
KEEP READING: Which Movie REALLY Ended the Disney Renaissance?
Secret Invasion: Emilia Clarke is Ready to Spend a Decade in the MCU
About The Author
Denial of responsibility!
TheNewsMotion is an automatic aggregator of the all world's media. In each content, the hyperlink to the primary source is specified. All trademarks belong to their rightful owners, all materials to their authors. If you are the owner of the content and do not want us to publish your materials, please contact us by email –
[email protected]
. The content will be deleted within 24 hours.