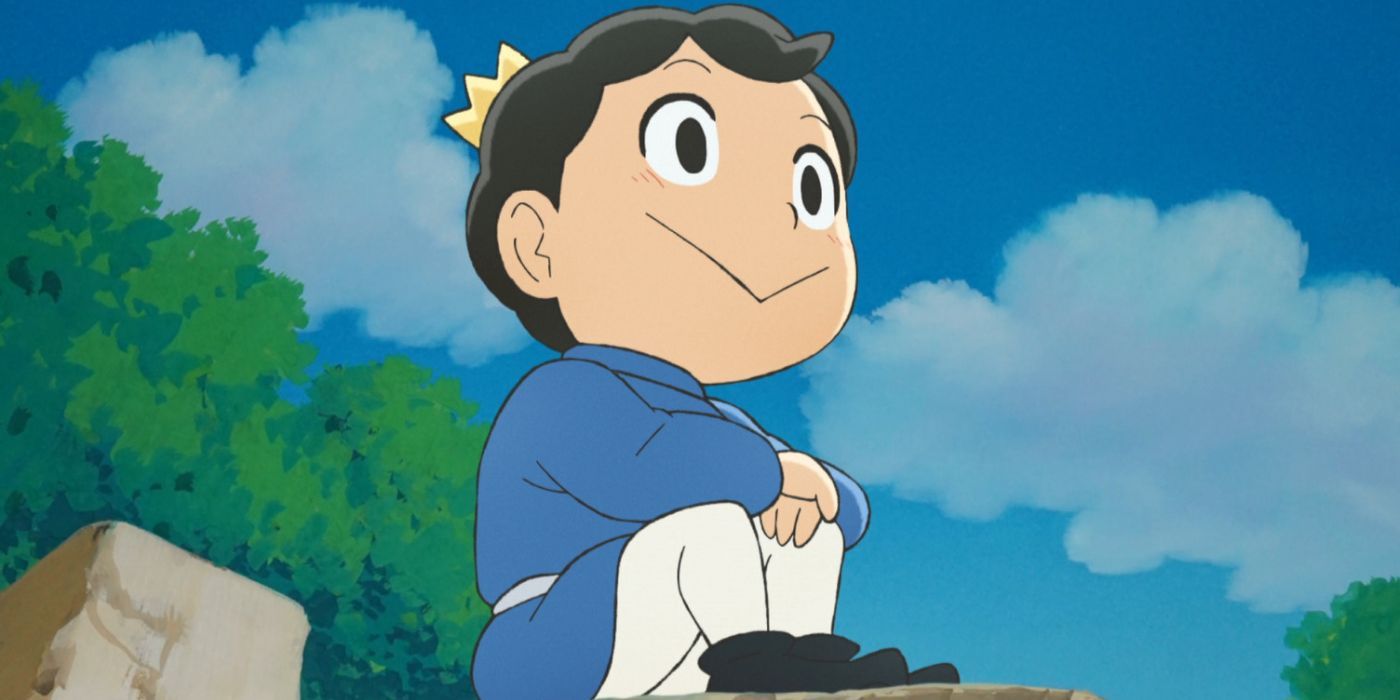 Ranking of Kings' Premiere Introduces the Year's Most Lovable Anime Underdog
Ranking of Kings' Episode 1 does an excellent job introducing the series' characters, including the Deaf underdog hero Prince Bojji.
WARNING: The following contains spoilers for Ranking of Kings Episode 1, "The Prince's New Clothes," now streaming on Funimation.
If the first episode is anything to go by, Wit Studio's new anime Ranking of Kings, based on the ongoing manga by Sosuke Toka, is already looking like it could be one of the best new anime of 2021. This series' premiere does an excellent job introducing its characters, and far and away the most lovable is the protagonist Prince Bojji. This Deaf boy who just can't wait to be king is the perfect underdog hero for this childlike yet emotionally mature fantasy epic.
RELATED: takt op.Destiny: Cosette's Backstory Reveals Her Tragic Origins as a Musicart
We first meet Bojji as a tiny child being comforted by his giant mother. After the opening theme, the show jumps forward in time: Bojji is still tiny, but his mom has long been dead, and he wanders around town in his underpants. While the episode title is a reference to "The Emperor's New Clothes," the townspeople in this story are under no obligation to pretend their naked royalty is fully dressed; instead, they freely insult him, thinking his nakedness is a sign of him being an "idiot" and that it's fine to bully him if he can't hear them doing so.
But Bojji is no "idiot" — he's just a kid who's been messed with. After the introductory scene, the anime goes back to show how Bojji lost his clothes: he was manipulated by a shadow monster called Kage. Unbeknownst to most of the other humans in his life, Bojji is skilled at lip-reading, so much so that he can even understand what Kage says through his decidedly inhuman mouth. Somehow Kage can telepathically understand the thoughts Bojji struggles to communicate. Kage sees Bojji as an easy mark, demanding that the Prince bring him expensive clothes every day — and Bojji sees Kage as a potential friend who understands him better than anyone, so he goes along with it.
RELATED: Blue Period: Yatora's Artistic Journey Begins
The degree of understanding and acceptance within Bojji's family varies significantly. His father, the giant Seventh-ranked King Bosse, encourages him to train hard, but Bosse is in poor health and his second Queen fits the classic fairytale role of the wicked stepmother. Queen Jiling believes Bojji to be completely unfit for kingship and makes no secret of her ableist attitudes. Jiling is propping up her son, Daida, to be king instead, and the rivalry between the two half-brothers erupts into some stunning animated swordplay. The person who understands Bojji best at the palace is the swordmaster Dormas, who acts as a sign language interpreter.
The big question as to where Ranking of Kings goes from here is how Kage fits into the picture. It's clear he feels at least some sympathy for Bojji despite being a jerk to him, and the promotional material implies that the two will end up being genuine friends sooner or later. How that development plays out will be exciting to see over the next few weeks — Bojji deserves all the friends he can find.
New episodes of Ranking of Kings premiere Thursdays on Funimation.
KEEP READING: My Senpai Is Annoying Would Be Better Without the Romance
Which Pokémon Would Give Team Rocket's Jessie & James the Perfect Team?
About The Author
Denial of responsibility!
The News Motion is an automatic aggregator of the all world's media. In each content, the hyperlink to the primary source is specified. All trademarks belong to their rightful owners, all materials to their authors. If you are the owner of the content and do not want us to publish your materials, please contact us by email –
[email protected]
. The content will be deleted within 24 hours.