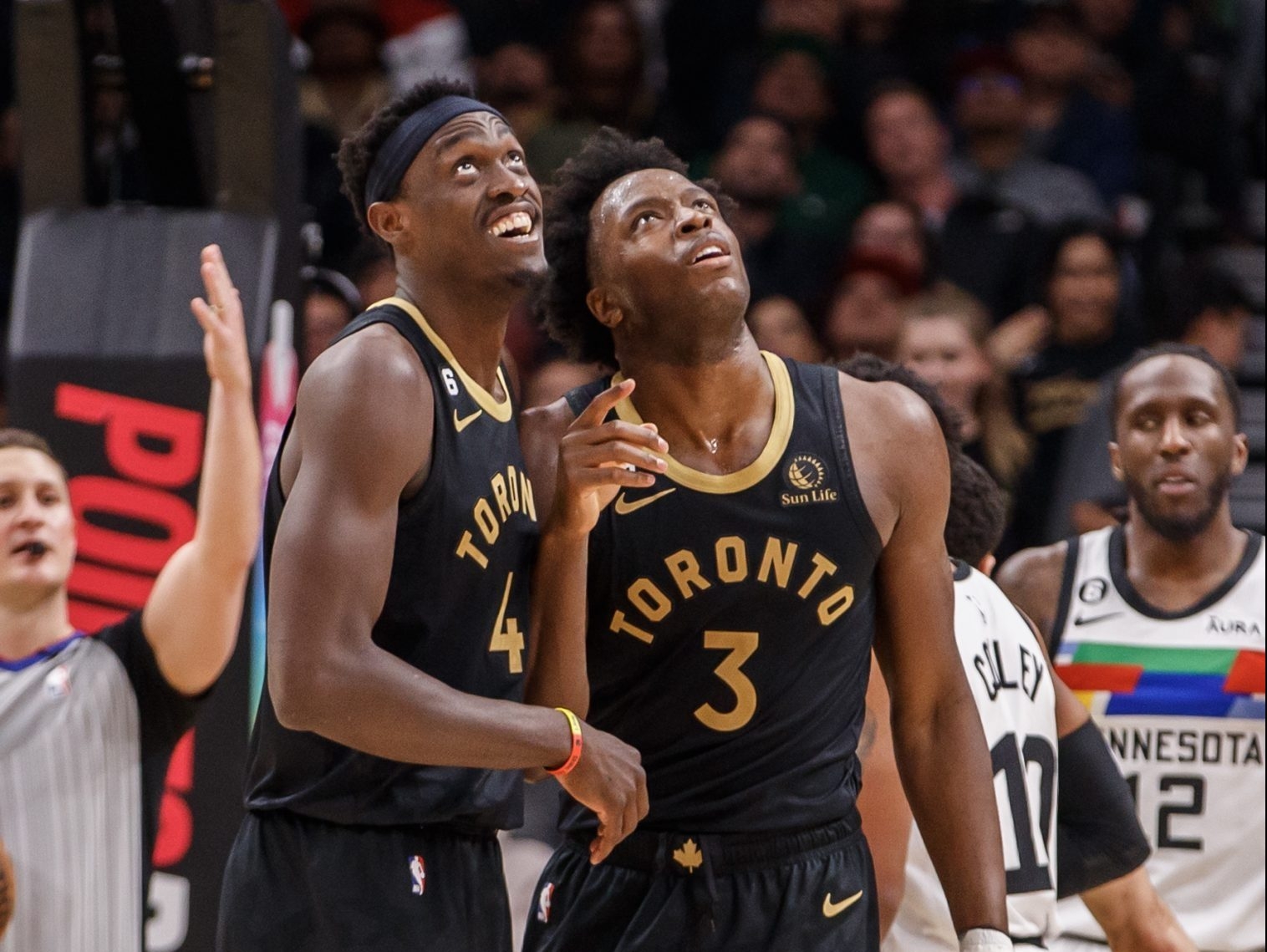 WOLSTAT: Raptors are rolling thanks to balanced offence, led by Pascal Siakam and Fred VanVleet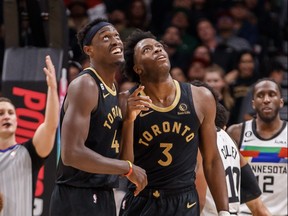 Article content
The Raptors have found a balance and it is leading to positive results.
Article content
Toronto won its seventh straight home game on Saturday night, 122-107 over Minnesota to inch within a game of .500 for the first time in months.
Article content
Fred VanVleet led the way in scoring with 28, as he has several times recently, but this month five other Raptors have led the team in scoring in at least one game, with Pascal Siakam (27 points against the Wolves) doing it most often. O.G. Anunoby has been on one of the best offensive streaks of his career, sophomore Scottie Barnes has had some huge efforts and Gary Trent Jr. has rallied from a recent illness that impacted his play during a long road trip to come up big this week. Plus centre Jakob Poeltl has had three games in March (including against Minnesota) where he only missed one field goal attempt.
Article content
"We gotta have more than one option and we have to take whatever the defence is giving us and I thought we had a pretty good, balanced attack tonight, making the right plays and even if wasn't working out we were still looking for the right things, making the right reads," VanVleet said.
That balance has been apparent pretty much from the second game Poeltl played. The Raptors are currently on pace to become just the second team in the last 49 years to have five-or-more players average 15+ points in a season (minimum 70% games played) and Poeltl is averaging 14.8, which would make him the sixth Raptor to average at least 15.
Article content
Defence will still have a major say in how far this team can go (they climbed within a half game of Atlanta with the win for eighth in the Eastern Conference), but with the offence finally humming with so many different scoring options, head coach Nick Nurse has to be encouraged.
Article content
His players certainly are. Anunoby is on a tear and at least one of Barnes or Trent are providing big-time scoring punch most nights, while Poeltl has been a perfect pick-and-roll partner for VanVleet — a huge target with soft hands and a deft touch inside.
But it all starts with the two players who have been all-stars, Siakam and VanVleet.
"I think this point we just got to take what the defence gives. We're at the stage where we're going to get the other team's best look get the most attention," VanVleet said of the dynamic duo.
"The first half I was (getting) whatever they were giving me. They put (standout defender Jaden McDaniels) on me, showed me a little more attention in the second half, a lot more physicality, brought the bigs up and Pascal was able to shake free and get some good buckets and find the mismatch on the other so we have to keep working on things and again, make the right reads for this team and I thought we did a good job of that tonight."
Article content
Siakam was way off early (just three points in the first quarter) but it didn't matter because VanVleet had 15 in that quarter. VanVleet only had two points in the third, but Siakam took over with 10.
"I thought we got off to a slow start there, so after a couple of possessions I was just trying to push the pace there a little bit, find a couple of buckets there, knock a shot down and Pascal got going in the third and in the fourth made big plays for us," VanVleet said.
WOLVES MISSING LOTS OF BITE
Minnesota was without star guard Anthony Edwards, who hurt his ankle early in Friday's double-overtime loss against Chicago. Edwards leads the Wolves in scoring (24.7 points), steals (1.6) and is one of the NBA's top young talents. He had not missed a game in nearly a full year. It was a massive absence for a group that was exhausted to start with, having arrived in Toronto in the wee hours of the morning after a long game.
Article content
The club was already missing its former top pup, Karl-Anthony Towns, who has missed most of the season, though centre Rudy Gobert did manage to suit up. Gobert had only played 33 minutes against Chicago, light work compared to the 51 minutes forward Kyle Anderson played and the 46 veteran point guard Mike Conley Jr. was tasked with.
Interestingly, Raptors head coach Nick Nurse said pre-game that when a player is listed as questionable — as both Edwards and Gobert were — he just has his team prepare as if they will be playing.
Gobert said afterward he was "really proud of the way we came out and competed." The former all-star noted the team "Got to the hotel at 5:00 a.m. A lot of adversity for us but we came out and we tried to compete to try to win the game. Obviously, Toronto is a very physical team. They kind of wore us down throughout the whole game and at the end we just ran out of gas."
Article content
ANOTHER HOMECOMING
For the third straight game a key member of Canada's senior men's backcourt was in town to take on head coach Nick Nurse and the Raptors.
First it was Denver's Jamal Murray (Kitchener), then Oklahoma City's Shai Gilgeous-Alexander (Hamilton) and Saturday brought Nickeil Alexander-Walker (Toronto) home. Alexander-Walker and his cousin, Gilgeous-Alexander, helped Canada qualify for the World Cup last summer, while Murray attended camp but was injured.
Murray was a star in the NBA's bubble in Orlando during the COVID-19 pandemic, Gilgeous-Alexander has emerged as one of the league's top players, but Alexander-Walker, though strong whenever suiting up for his country, has bounced around recently. He is on his third team in four NBA seasons. He has showed some flashes in all three stops though and was the first reserve called upon by Minnesota on Saturday.
Article content
"He's doing well with this team. He's had such a rough-watered start — a number of coaches, number of teams, number of systems — and it certainly looks like (Wolves coach Chris Finch, a former Nurse assistant in Toronto), he's found an ally or a partner there, a system all that stuff," Nurse said.
AROUND THE RIM
— Finch lamented afterward Minnesota's inability to hit open shots. "We had a lot of really good, wide-open looks," Finch said. "If you take out (Jaden McDaniels's) 4 for 6, we were 1 for 17 from the 3-point line. We needed those 3's to go in tonight. We made the right play; they didn't go in."
— Precious Achiuwa only checked in for the final minutes after not playing at all in the previous game, but Nurse said he expected to call on Achiuwa against Milwaukee. Chris Boucher was excellent off the bench in a backup centre role that's different than a lot of the minutes at forward he's logged this season. VanVleet lauded Boucher, saying "his 19 minutes tonight were amazing."
@WolstatSun
Denial of responsibility!
TheNewsMotion is an automatic aggregator of the all world's media. In each content, the hyperlink to the primary source is specified. All trademarks belong to their rightful owners, all materials to their authors. If you are the owner of the content and do not want us to publish your materials, please contact us by email –
[email protected]
. The content will be deleted within 24 hours.